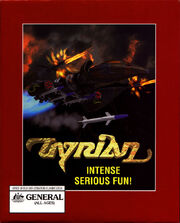 2.0 is the second release of Tyrian. It adds a number of new features to the main game:
The fourth episode, An End to Fate.
Two-player mode and Super Tyrian mode.
All new equipment, including new ships and weapons.
Bonus games at the end of the episodes.
More items on the shop in the previous chapters.
Christmas Mode, triggered by starting the game in December.
Bug fixes.
Ad blocker interference detected!
Wikia is a free-to-use site that makes money from advertising. We have a modified experience for viewers using ad blockers

Wikia is not accessible if you've made further modifications. Remove the custom ad blocker rule(s) and the page will load as expected.